This past Saturday we met up at the Brooklyn Library at Grand Army Plaza and biked out to Bay Ridge. For those that don't know, Bay Ridge is located in the southwest corner of Brooklyn, and sports a lovely view of the Verazano bridge as well as some excellent slices of pizza. 
Pizza Wagon
We got to Pizza Wagon (5th Avenue and 86th st) at around 1:30 in the afternoon, the place was packed.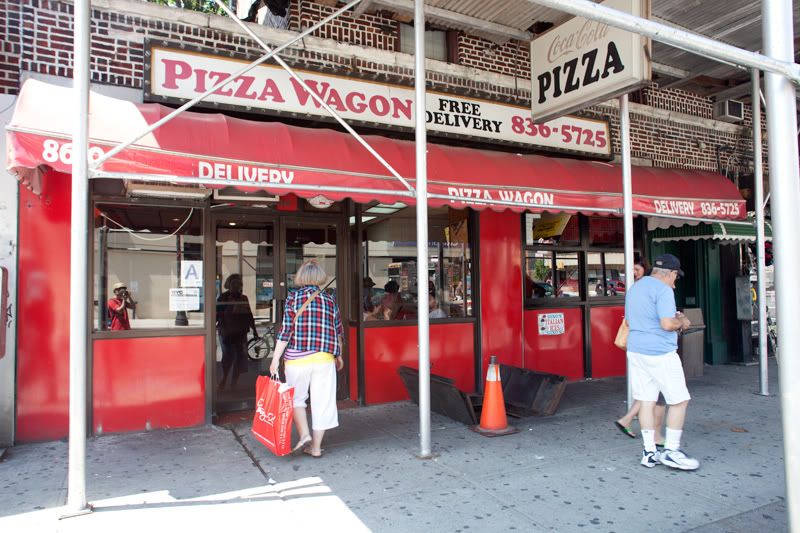 Pizza Wagon, 8610 5th Avenue, Brooklyn, NY
We were immediately greeted with a loud "NEXT" after stepping inside. We ordered "three round" and found seats in a recently vacated booth.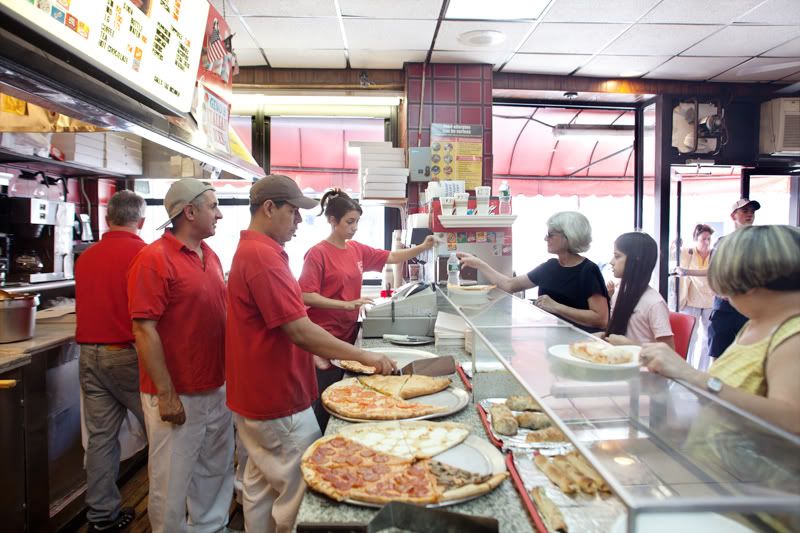 The counter at Pizza Wagon
After sampling the goods, a thin-crust slice with a sweet sauce, quite good, we found Vito, the Wagon's welcoming co-owner, who proudly explained to us that Pizza Wagon is just a "pizza and soda" place (no hero or salads, and only a limited number toppings).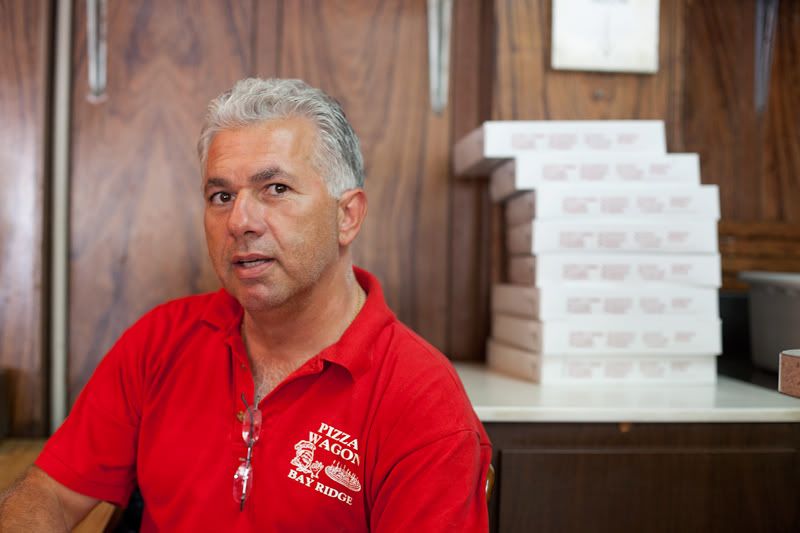 Vito, Co-Owner of Pizza Wagon
Vito's father-in-law Nunzio bought the Pizza Wagon in 1985 from his wife's brother Philip, who opened the shop in 1966. It is now co-owned by Vito and Anthony (Nunzio's son). The place has been selling the same round and square pies ever since. One couple we spoke to told us that they travel over an hour a few times a week to grab a couple of slices and icees from the Wagon. 
Women in the Workforce: As Vito told us, "ever since we started, there has been a girl behind the counter." It started with Vito's wife's cousins and aunt back in the 70's, then Vito's wife and Mother-in_Law in the 80's and continues today with his daughter, Leonarda. To find a woman working behind the counter of a pizza place is unique, and Pizza Wagon boasts that a woman's presence in the shop is one of their proudest traditions.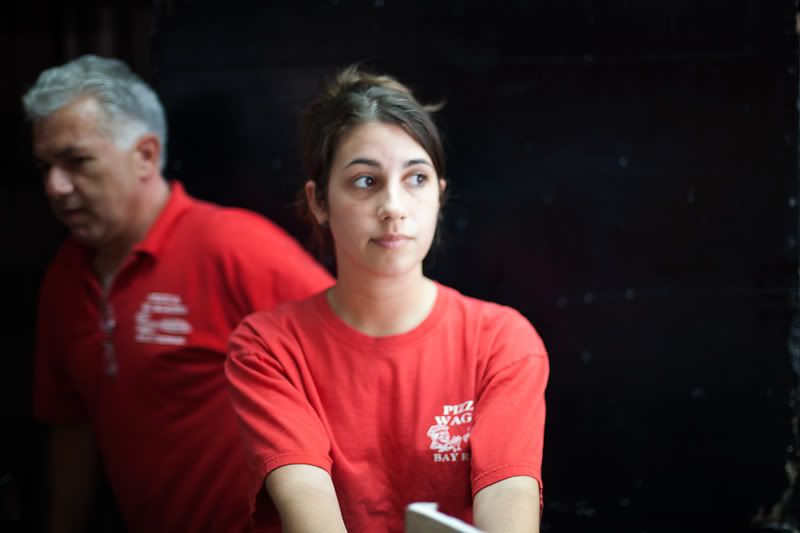 Leonarda, Daughter of Vito
A Pizza Romance for the Ages: I should probably also mention that Vito and his wife met behind that very same counter. Vito started working at the Wagon when he was 17, where he immediately fell for his future wife…the boss' daughter. 
Nino's Pizza
Customers at the Wagon told us that Nino's on 92nd street and 3rd avenue was another spot we had to try, particularly the Grandmama slice (not your typical grandma slice, its actually called "grandmama," like old school Larry Johnson, only thinner and with less cheese). The Grandmama ranks up there with the top slices we've had so far, and certainly worth a pizza-lovers trip out to Bay Ridge. As an added bonus, the owner blessed us with some Spumoni from L&B's for dessert.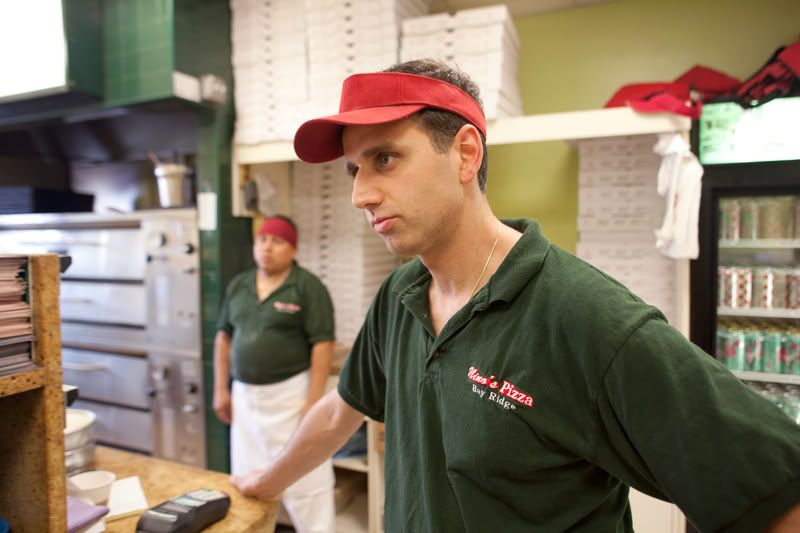 Bennie Cerva, Owner of Nino's Pizza, 9110 3rd Ave, Brooklyn, NY
Elegante Pizzeria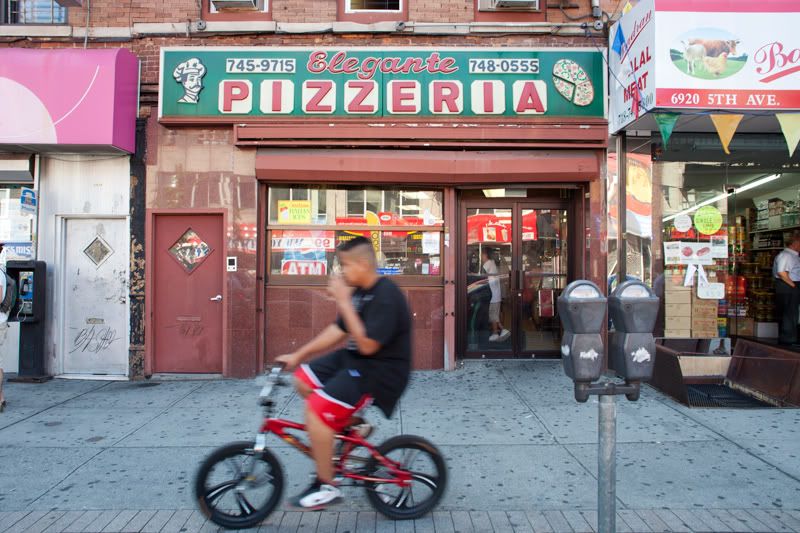 Outside Elegante Pizzeria, 6922 5th Ave, Brooklyn, NY
Elegante was another spot that came highly recommended by both locals and the pizza inclined. Its on 69th street and 5th avenue, which was just a short bike ride away from Nino's. Elegante has been there for 70 years - making it one of the oldest places we have been to. Tony, the sincere and soft-spoken owner, and his brother bought the shop about 30 years ago when Tony was just 17  (pause to consider what you were doing at 17). Elegante's operation is rather austere, with just Tony and his brother alternating days running the shop, and Tony's son lending a hand on the weekends.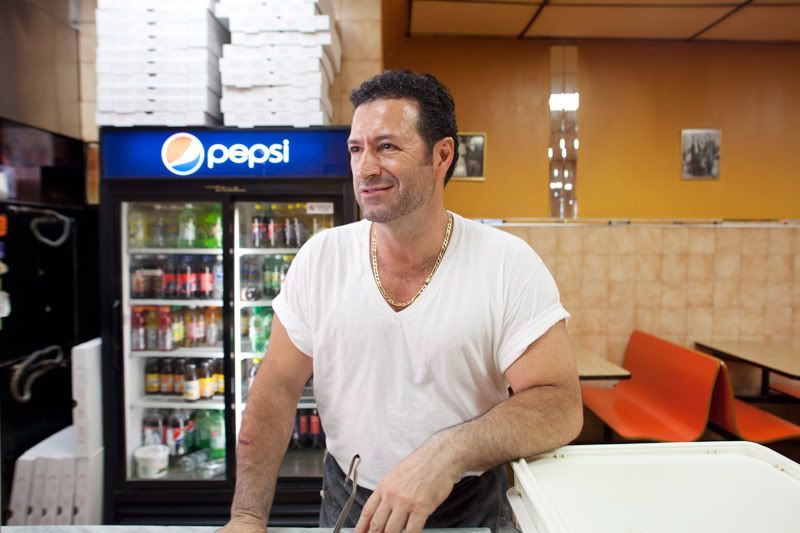 Tony Varvara, Owner of Elegante Pizzeria
smuttny likes this
nypizzaproject posted this